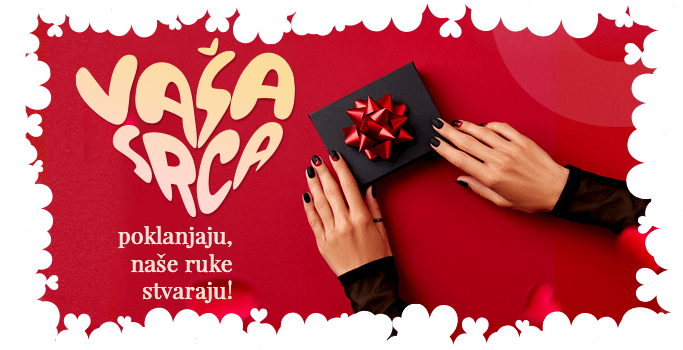 Dan zaljubljenih nam se bliži, i bez obzira da li ga obilježavate ili ne, treba iskoristiti svaku priliku da voljenoj osobi pokažemo koliko je volimo. Živimo u vremenu kada je tempo života iznimno brz, obaveze brojne, a količina informacija kojom smo zasuti svakodnevno ogromna. U takvom okruženju lako se pogubimo jer je naš fokus razvučen na "sve strane". I obično tada zapostavimo one koje su nam ustvari najvažniji – voljenu osobu i porodicu.
Uzmite kratak time out, napravite mali predah od svih obaveza i iskoristite pogodnost koju vam nudimo u saradnji sa našim dragim prijateljima iz kompanije Visa. Pronađite na OREI nešto što će biti mali ili veliki znak pažnje za vašu voljenu ili voljenog, te iskoristite jedinstveni popust ako narudžbu plaćate Visa karticom.
Ukoliko prvi put koristite svoju Visa karticu za plaćanje na OREI, iznos popusta kojeg možete ostvariti je 15%, a ukoliko koristite Visa karticu koju ste prethodno sačuvali za plaćanje na OREI, iznos popusta je 25%. Stoga, obavezno sačuvajte vašu karticu prilikom prve narudžbe ukoliko to već niste učinili. Maksimalan iznos popusta kojeg možete ostvariti po jednoj narudžbi je 50 KM.
Sve što je potrebno da biste uživali u ovom popustu jeste da za plaćanje koristite Visa karticu – bilo koje banke u svijetu – i to je sve!
Za način plaćanja izaberite kartično plaćanje, a zatim unesite broj vaše Visa kartice kako bi sistem prepoznao istu te vam automatski obračunao popust. Napomena: popust za plaćanje Visa karticom ne može biti obračunat niti prikazan dok ne unesete broj kartice.
Ne postoji ograničenje na broj narudžbi na koje možete ostvariti ovu pogodnost, stoga uživajte u shoppingu!
Ukoliko imate bilo kakvih pitanja ili vam je potrebna pomoć pri plaćanju vaše narudžbe, javite nam se putem chat-a za pomoć korisnicima kojeg možete aktivirati u donjem desnom uglu vašeg ekrana.
Promotivni popust završava 14. februara/veljače u 23:59:59h.